Native Authors Summer Reading
Join us as we welcome authors An Garagiola, Sarah Wheelock, Melissa Olson and Kyle Hill to share readings at All My Relations Arts. Hear snippets from the cohort's new works as well as hear updates on the program's cohort. All are welcome. Food and drink will be provided.
Friday, August 25th, 5:30pm snacks and refreshments, 6pm readings, Free. All My Relations Arts Gallery. 
All My Relations Arts' Native Authors Program
supports all aspects of the development of Native authors in genres of fiction, creative nonfiction, poetry, children's fiction, and young adult fiction. Recipients will participate in an 18-month intensive writing program focusing on professional development topics including preparing a manuscript, working with an editor, approaching a publisher, the business of writing, and more. AMRA's Authors Program creates a much-needed, brave space for Native authors to learn and flourish.
The Native American Community Development Institute (NACDI) and All My Relations Arts is pleased to announce the recipients of the second iteration of the Native Authors Program. Under the program facilitator and mentorship of Art Coulson, authors will expand their practice and engage in the development of their focus.
---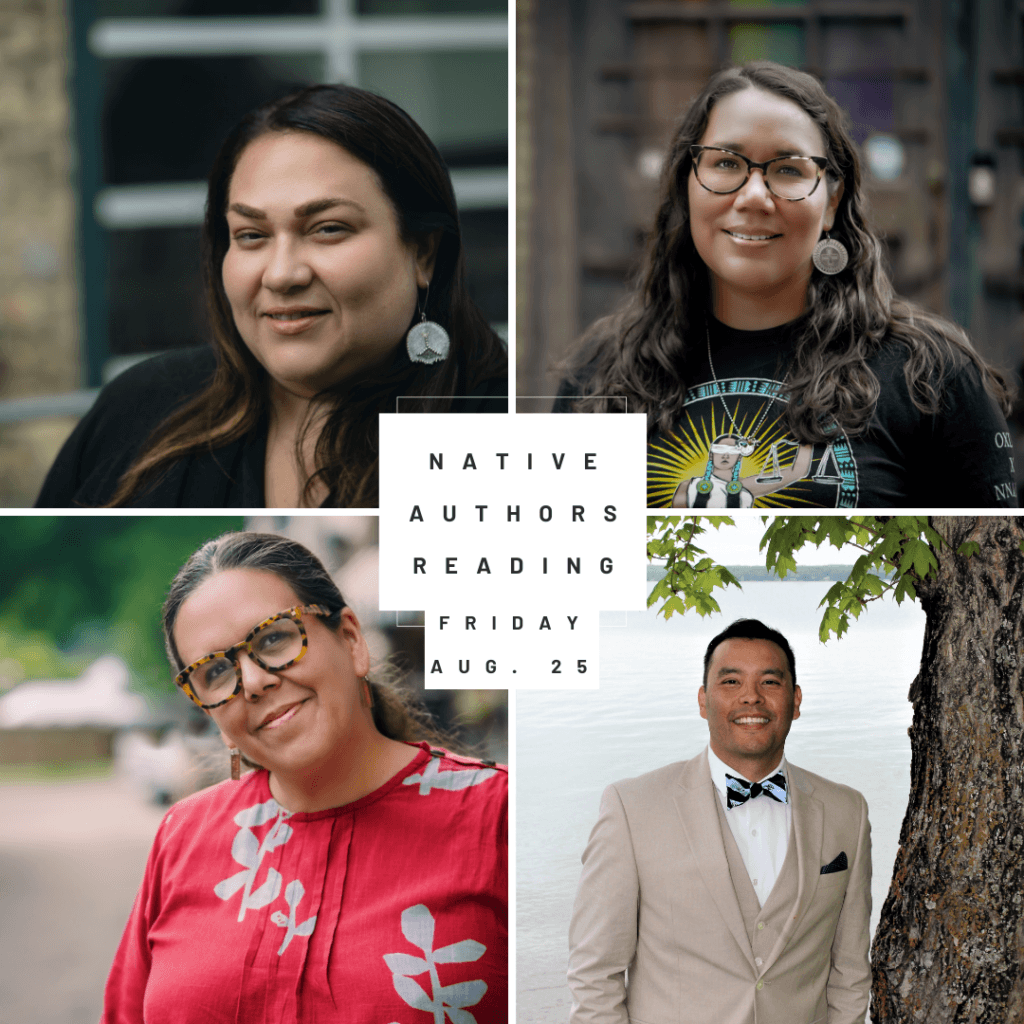 ---
ABOUT THE AUTHORS:
---
An Garagiola (Bois Forte Band of Chippewa) is a mother, graduate student, researcher, and writer born and raised in the Twin Cities. An works a data sovereignty specialist at Little Earth where she supports urban food sovereignty initiatives, and in the office of Native American Affairs at the University of Minnesota where she helps to coordinate projects such as TRUTH, a collaboration with MIAC and the 11 recognized tribal nations to tell the past, present, and future of University-Tribal relations. 
Broadly, An uses Indigenous research methods/analyses and modes of communication via cultural literary production to interrogate how colonial policies and ideologies (re)construct, control, marginalize, and suppress histories, voices, and knowledges. She seeks to complete and correct narratives colonial society has told about Native Americans. As a mixed-race Anishinaabekwe, her blend of poetry, research, and advocacy is a personal reflection of her lived experiences. An's writing spans a breadth of subject matter including poverty, disability, addiction, suicide, love, loss, and Indigenous eroticisms. As she reclaims Anishinaabemowin, An seeks to incorporate it whenever possible. Trained in creative writing and policy analysis, her work is interdisciplinary, rooted in Indigenous Feminisms, and in the belief that healing happens in circles of relationality with ourselves, others, and the land.

Kyle X. Hill, Ph. D., M.P.H is Ojibwe (Turtle Mountain Band; Enrolled Citizen), Dakota (Sisseton-Wahpeton Sioux Tribe), Lakota (Cheyenne River Sioux Tribe). Dr. Hill is a storyteller and poet, grounding his use of story from his comedic, but all too often tragic, experiences living on several different reservations, as well as urban areas, grappling with poverty and the devastating consequences of settler-colonialism and Christianity. Dr. Hill was born in Mni Luzahan, or Rapid City, SD. Dr. Hill is a licensed psychologist, currently an assistant professor with the University of North Dakota, school of medicine and health sciences, department of Indigenous Health. He currently lives on his Dakota and Anishinaabe traditional homelands in St. Paul, MN. Dr. Hill is also a veteran of the U.S. Army and enjoys traveling in the summer as a grass dancer on the powwow trail.


Melissa Olson (she/hers) is a journalist, an essayist and community archivist. Melissa is a recent contributor to Minnesota Public Radio's North Star Journey Series—stories about the resilience of Indigenous, Black, and people of color throughout Minnesota. As an essayist, she is a recent contributor to an We Are Meant to Rise: Voices for Justice from Minneapolis to the World, an anthology published by the University of Minnesota Press. As an archivist, Melissa works with MIGIZI Communications on a long-term project to preserve MIGIZI's radio archive, a digitization project encompassing 15 years of radio programming by Indigenous radio-makers. Melissa holds a master's degree in arts and public policy from NYU's Tisch School for the Arts. She also earned an undergraduate degree from the University of Minnesota's college of liberal arts. She is a past recipient of a MacArthur fellowship for her graduate work in American Studies at the University of Minnesota. She is a tribal citizen of the Leech Lake Band of Ojibwe. Melissa lives in Minneapolis, Minnesota.
Sarah Wheelock (Ponapikwa) is a writer born in Iowa, who makes her home in the Twin Cities. A member of the Meskwaki Nation (People of the Red Earth) and bear clan, Sarah works in the legal field and serves the people of Minnesota as a judge for the Court of Appeals.
Sarah's professional experience involves significant writing in the legal realm, but she also enjoys creative writing. Since she was a child, Sarah has written poems and short stories, and dreamed of writing the next great novel of our time. Sarah believes that fiction writing and story-telling are inherently human activities that help us make sense of the world and environments we inhabit. Sarah is a language learner of Meskwaki (Meshkwahkihaki), an Algonquian language spoken by her ancestors and relatives from The Settlement. A self-identified bibliophile, Sarah enjoys superheroes, science fiction, memoirs, historical fiction, philosophy, and poetry, as well as books about gardening, brain tanning, crafting, and more, and she owns more books than she has shelf space to store or time to read. In recent years, Sarah began submitting work to the University of Iowa's Write Now Flash Writing Competitions, securing an online publication of her piece Kunsi's Feather in 2020. Sarah's writing focuses on her lived experience as a bi-racial Indigenous woman navigating complex systems of identity, power, and family, and her relationality to all of Creation. Sarah strives to be a good relative to all and an amazing mother to her cubs.