Aabijijiwan Ukeyat yanalleh
Oct 12, 2023 – Jan 13, 2024
About the exhibit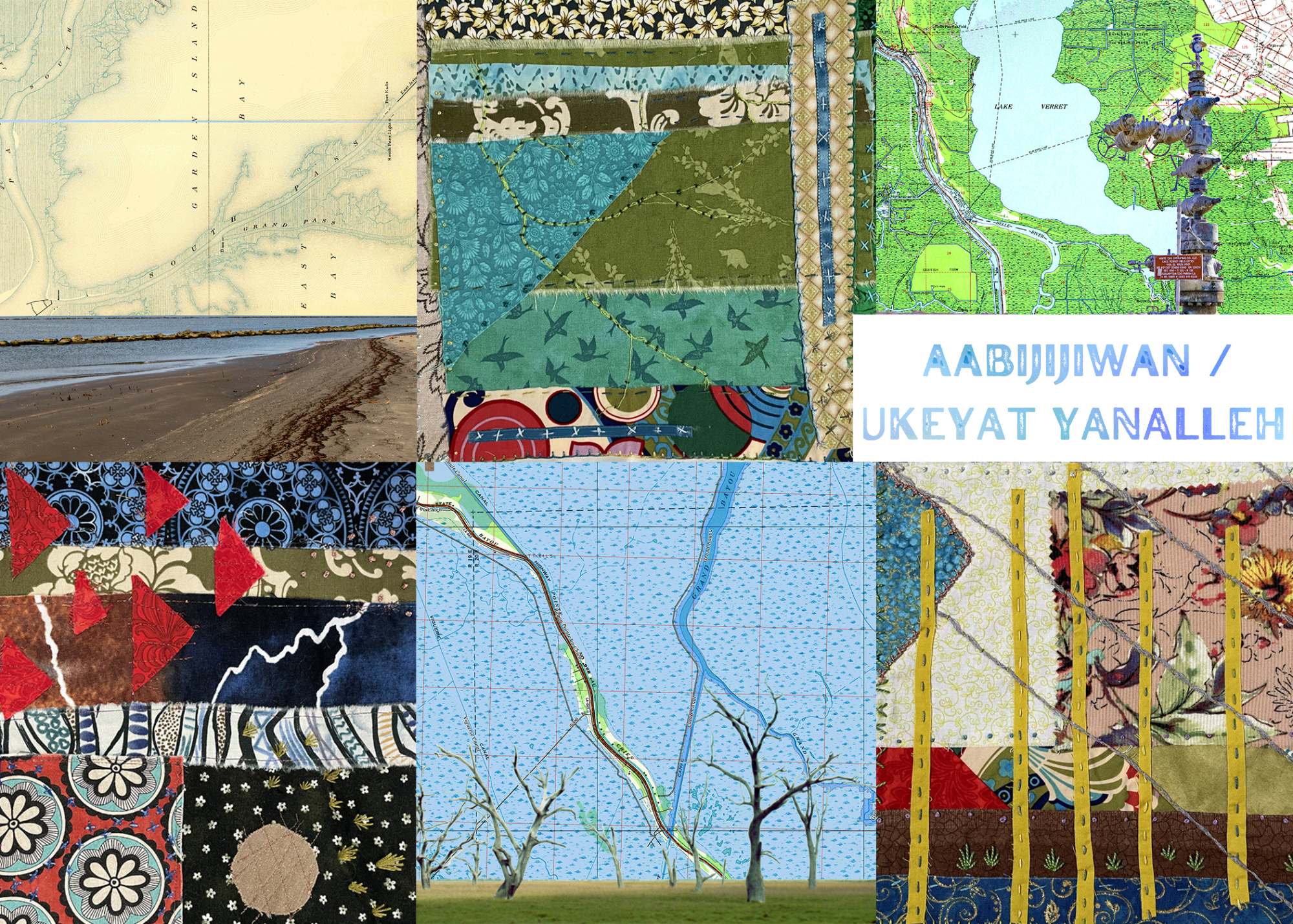 Aabijijiwan Ukeyat yanalleh is a collaborative exhibition from artists Karen Goulet (Ojibwe) and Monique Verdin (Houma). Karen and Monique are sisters of the same river, connected by the planetary lifeforce known as the Misi-ziibi (Big River, Ojibwe) near the headwaters in the north and remembered as Misha sipokni (Older than Time, Chata) in the coastal territories of the southern Delta, where the bayous of Turtle Island meet the sea.
The Misi-ziibi Misha siponi introduced Karen and Monique and encouraged their relationship to be immersed in the sacred systems of the watershed and the magic of the riparian zones. Aabijijiwan Ukeyat yanalleh reflects their journeys together, up, and down river; illuminating diversities, connecting personal memories and curiosities, seasonal rituals and witnessing to the times of change recognized in the layers of Indigenous and colonial histories bound to the watershed they share.
"This exhibition reflects our shared love and gratitude for the Misi-ziibi Misha siponi. Our continuing journey was seeded in 2019 by the Big River Continuum. Through multimedia collaborations and explorations that mirror realizations, conversations, and contemplations found during our time together we continue to share stories of women and individuals from our lives and from our territories. It is an offering of love for our Misi-ziibi and the land and waters we call home." – Karen Goulet and Monique Verdin. 
Many thanks to the Big River Continuum, an exchange between the headwaters and the delta supported by the University of Minnesota Itasca Biological Field Station, the Watermark Art Center, the Weisman Art Museum and Tulane University's A Studio in the Woods.
Program Dates:
Opening Reception: Thursday, October 12th, 6-8pm
Closing Reception: Saturday, January 13th, 2024, 6-8pm
For additional programming information, please visit our website at allmyrelationsarts.org. 
About the artists: 
Karen E. Goulet is a White Earth Ojibwe Band member and is also from Metis, and Finnish people. She is a practicing artist, poet, educator and community sculptor. She is the Miikanan Gallery Program Director at  Watermark Art Center in Bemidji, Minnesota.  Karen received her BA from The Evergreen State College, MFA in Sculpture from The University of Wisconsin – Madison, and MEd from University of Minnesota Duluth. She is a recent recipient of Minnesota State Arts Board Grants, Waterers Fellowship, and Region 2 Arts Council Anishinaabe Arts Fellowship. She was a pilot artist for the Big River Continuum Project. Her work centers around community, environment, and perpetuating culture. Her life path has always been a creative path and she has dedicated her professional and personal life to making, sharing, and encouraging artistic practice.
Monique Verdin is a transdisciplinary storyteller, citizen of the Houma Nation and director of The Land Memory Bank & Seed Exchange, responding to the complex interconnectedness of environment, economics, culture, climate, and change in the Gulf South. Monique is currently working to support the Okla Hina Ikhish Holo, a network of Indigenous southeastern gardeners, to grow food and medicine sovereignty in the lower Mississippi River Delta and is a Bvlbancha Liberation Radio collaborator. Monique is co-producer/subject of the documentary My Louisiana Love and co-author of Return to Yakni Chitto : Houma Migrations.
Aabijijiwan Ukeyat yanalleh
Oct 12, 2023

|

06:00–08:00pm

Aabijijiwan Ukeyat yanalleh Opening Reception

–

Join us Thursday, October 12th for the opening reception of Aabijijiwan Ukeyat yanalleh. Aabijijiwan Ukeyat yanalleh is a collaborative exhibition from artists Karen Goulet (Ojibwe) and Monique Verdin (Houma). Karen and Monique are sisters of the same river, connected by the planetary lifeforce known as the Misi-ziibi (Big River, Ojibwe) near the headwaters in the […]

Learn More