Inde Wiisagendam (My Heart Hurts)
Jul 14, 2023 – Sep 9, 2023
About the exhibition
Inde Wiisagendam (My Heart Hurts) is a collection of multilayered, multifaceted monotype prints from artist Laura Youngbird (Minnesota Chippewa, Grand Portage Band). Using the dress as a metaphor, her work addresses a wide range of social issues, injustices and biases. Through mixed media — combining drawing, painting and prints — Laura explores the dress as a consistent and important symbol in her work, as this simple garment contains layer upon layer of meaning.
Inspired by pictures of her grandmother, Laura explores identity – or the lack of –  created by the assimilation policy intended to acculturate Native children into the dominant culture. The symbol is reminiscent of her mother sewing dresses for her and her sisters and teaching sewing as an act of love. As a symbol, the dress can be enveloping, nurturing and protective while also used to create an illusion to mask hidden layers. The works in this series examine mixed emotions themes such as common thread, loose ends and threadbare. Inde Wiisagendam will welcome both older pieces by Laura, as well as never-before-exhibited works, showcasing the artist's depth of range and mastery of her medium. 
"The dresses represent and hold multiple layers and meaning for me. My mother used to make our clothes for us and taught us to sew. There is the love that goes into making a garment for someone along with the concept of covering, hiding, creating a disguise—trying to make one fit. The dress is a simple garment and a powerful artifact. It represents a sorrowful saga that entwines, binds, and connects my grandmother, my mother, and my sisters with the power of a common thread." – Laura Youngbird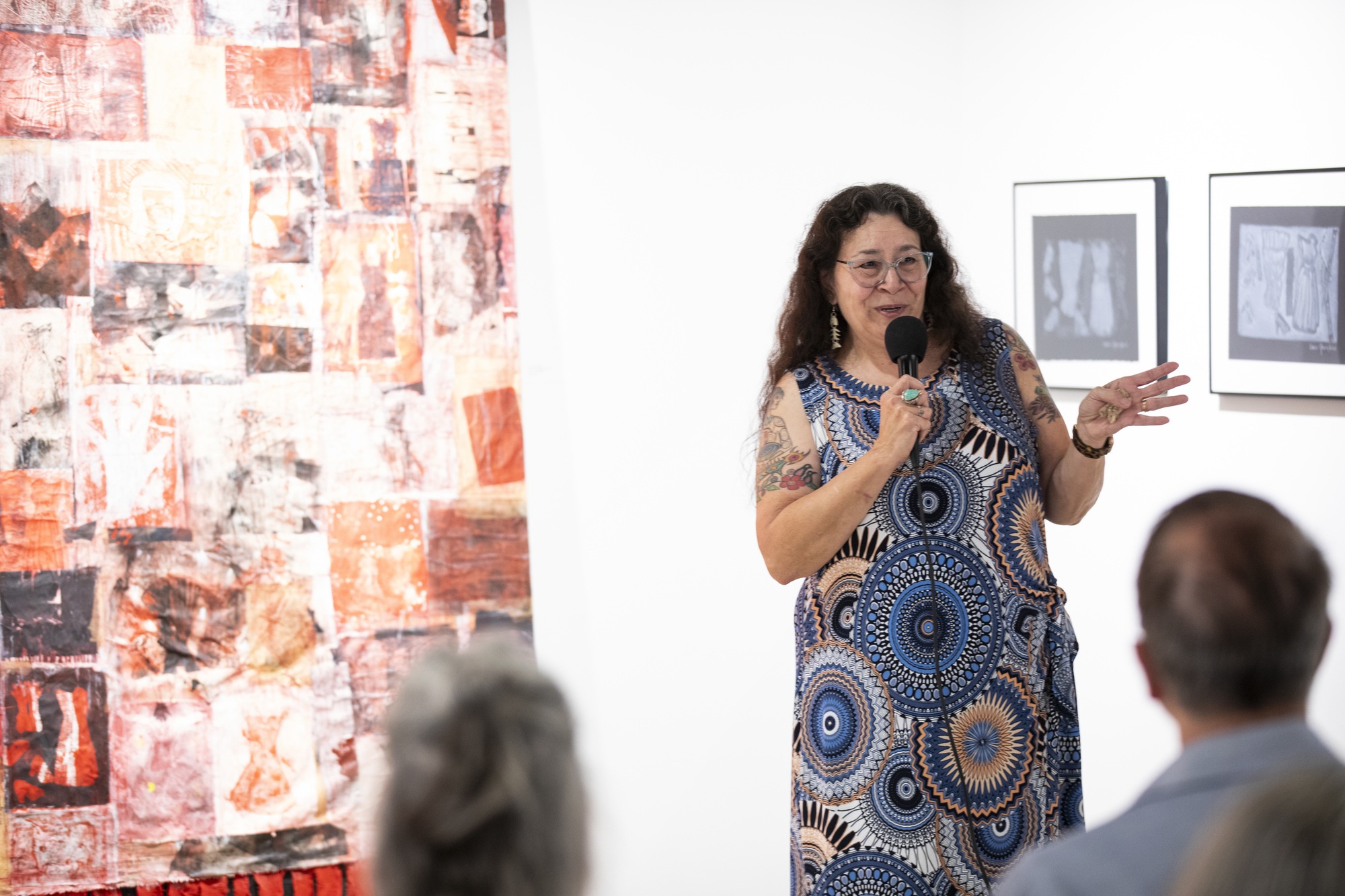 On View: July 14th – September 9th, 2023
Opening Reception & Artist Talk: July 14th, 6-8 pm
Mixed Media Monotype Artist Workshop: August 17th, 5 pm. Spots are limited. To register, click HERE.
This exhibition is presented with Public Art Saint Paul as part of the Wakpa Triennial.
Image credit: Laura Youngbird, Inde Wiisagendam (My Heart Hurts, 2020
Virtual Reality Video of "Inde Wiisagendam." Video by Tj Turner Pictures.